La Conner Studio 623 seeks out Pacific Northwest Artists
but the truth is, they find us. We have been so blessed to currently feature exceptional and talented Pacific Northwest artists who work across multiple media.
STEPHEN "TWO BEARS" FARMER
When you first see Stephen's art his unique vision of the world is revealed. The images are never what they seem, are on scale not yet imagined and this transfigures Photography into art.
besides photography Stephen is also very knowledgeable in stones and crystals. He designs unique necklaces and explains the purpose for the selection of precious stones in each piece.
You will want to explore his art and jewelry in our la Conner location.
Greg Whiting
Greg has obtained images belonging to his family which speak to life in the Pacific Northwest. They have great personal signifigance to him and he has chosen to share with us.
As a picture speaks a thousand words so this photo tells a story from a day gone by.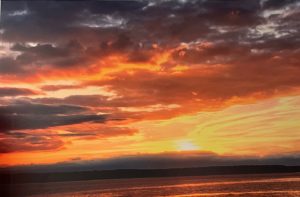 The sun sets gently behind Vashon Island. Gregs prides his work with bringing the whole Pacific Northwest to the minds eye. Every one who live here recognises the iconic nature of the work.
Mari White-Bucy
Mari usually finds herself in the right place at the right time . Her cell phone ready to capture something beautiful.
John Battles
Dragon Stone and obsidian are added to a naturally occurring crows head.
It take s unique imagination to encode "imagine" into a walking stick in obsidian beads.
Fancyful magic wands for multple occasions.