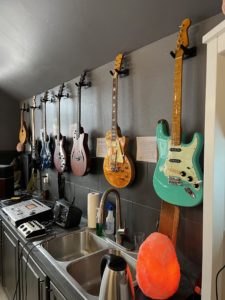 la Conner Studio 623 now sells, builds, and repairs guitars. We can change the pickups, setup and level the neck, add new frets, restring, basically anything on an electric and some repairs on acoustic. Perhaps you have an old guitar in the attic you want to fix up or sell. If you're looking for lessons I can teach various styles, work on rhythm or lead, and learn a little theory.
Shopping with us is an experience, very likely accented with live music. In 2023, we will present at least two shows a month on our sound stage in the weekend evening hours. Join our mailing list if you want notification of upcoming shows.
Meanwhile, besides guitars we carry CBD Products, Leather Journals, Kites, Science Projects, Books, Himalayan Pink Salt Products, Games, Jewelry, Art, Handbags, Walking Sticks, Magic Wands, Tarot Cards , Smudge Kits, and Spa products.
We still practice the lost art of customer service, Dogs and children are welcome. Complementary bottled water is always available. We are always looking for new unique products to sell. New in 2023 we will carry artistic glassware and vintage LP's